Now peoples of this country are getting them out from manual method of searching. A part from the reason of too much time consuming, it's not easy to collect multiple info sources from different places. This is the basic cause that now in 2018; numbers of net users are greater than last year. For this purpose, Ufone will come up with new internet packages for both postpaid and prepaid users. Subsequently, company also makes sure a good browsing speed. Mainly daily and weekly offer are also part of these offers in 2018, but permanent net users also avail services of monthly package. It's essential to remember, that currently unlimited downloading is not available. In spite of the fact that one of bucket contains more than thousand MB; but still its need that one will take care of consuming volume (Mbs).
An additional benefit of these packages is that now customer can communicate through social media messaging without paying any cost. This is sign of relief that company is offering something free.
Ufone Internet Packages in 2018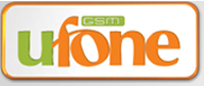 This is only particular Company that is having best daily internet bundles, they are further dividing in four parts.
Note: These are for Prepaid User.
Let's have a look on them:

This time Ufone offer three type of weekly internet bundle for its customer. These all are best option, for frequent net users.
Valid for a Week Detail:

Customers who are regular net users, or they are having high bandwidth usage. This is one of best type of package that will full fill their every need.
Valid for one Month Detail:

Apart from this, all of their buckets for Postpaid users are best for those who has all time connected with net.
"Detail of Postpay Bundles"


Another concerning thing about any net work is its coverage area. With this perspective, its signal range cover almost every part of this country. Most significant thing is that, every where its signal strength is very balance. So does not need to worry, just switch them on and get benefit from it.