Just like all other products, the new Volta and Osaka battery price list in Pakistan 2021 shows that the batteries rates are also going up. At present energy crisis time, everyone wants to have trustworthy and economical power solutions. When it comes to battery usage options then Volta and Osaka are the most recommended ones. No doubt both of these are different names and qualities as well, but they are manufactured under one platform. Both are best in working, but no one knows that whey their think tank differentiates them from each other. Those who are now interested in buying a battery must verify the Volta & Osaka Batteries price list.
These batteries are now attainable for every type of usage. From domestic to industrial usage, every type of battery is available in both names. Now the various model is present in the market and in every latest one come with some improvement that makes it long-lasting in life.
Osaka Battery Price List in Pakistan 2021:
Yet, the Osaka Battery price list in Pakistan 2021 has not updated on their website. So better is that call on their helpline number to confirm the rate of your desired model.
| | |
| --- | --- |
| City | Number |
| Factory Number situate in KPK | +92-995-617262 – 617653-4 |
| Head Office Islamabad | +92-51-11122-00-22 |
| Rawalpindi Office | 051-4412639 |
| Peshawar | 091-2264619 |
| Faisalabad | 041-8787458 |
| Lahore | 042-6361446 |
| Multan | 061-4519381 / 061-4584307 |
| Sukkur | 071-5614814 |
| Karachi | 021-4384121-2 |
Currently, they also offer Valve Regulated Lead Acid Batteries. These give the perfect and complete sealing of posts. Their unique structure that comprises of triple sealing, it can wholly prevent any kind of acid leakage. Now they also come with Safety valve options so that you can have stable open and also close pressure. Their Grids are made from a multi-element alloy so that battery can have a long life.
Volta Battery Price List 2021 in Pakistan:
Until now, the Volta Battery price list 2021 in Pakistan is not properly uploading on the official site. So better is that call on their number.
Note: The customer care number of Volta and Osaka battery is the same because the parent company of these brands is the same.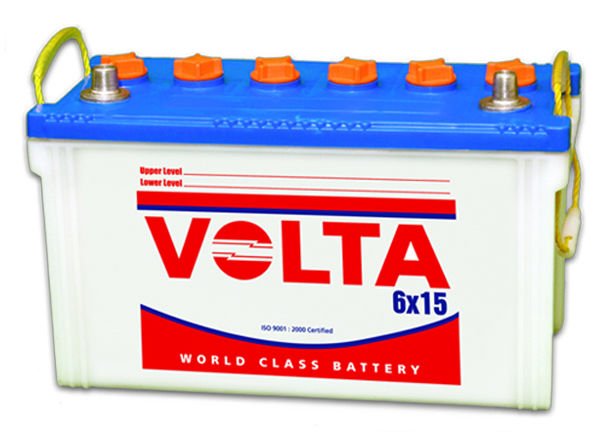 This company makes use of lid heat sealing technology in order to ensure the safest seal of the battery. All of their products are installed with Multi-layer kind of seal technology and too with special glue. These steps are taken by them so that batteries face no leakage. It is their core values and norms that make them stand out. They work with integrity and complete credibility. We see honesty in their workmanship. Their team thinks in an innovative way and produce manufacture environment-friendly products.
Meanwhile, Osaka is working on the automotive battery and too for the inverter. They have this competitive edge to be called as the only and single local manufacturer of the making of Tubular Batteries. Furthermore, the motorcycle Batteries of 04 Amp to about 10 Amp is also obtainable under this brand.
They also make specialized ones for Solar Panels. They have passed this milestone and the biggest achievement of producing and making VRLA one. These can give better and composed solutions related to the sectors of solar energy as well as telecommunication. Hopefully, Volta and Osaka Battery price list in Pakistan 2021 will reduce as the dollar rate will stable in forthcoming months.