Telenor Talkshawk SMS Packages in which Telenor Talkshawk Daily, weekly & Fortnight SMS Packages are getting popularity as they offers the customers to send SMS to any of the network in the Pakistan at the lowest cost. Telenor Talkshawk always try to give something new to its customers that they feel like the big joys of life are always come from little things like the love one can feel from a hug, a little smile from a person whom you love etc. Telenor Talkshawk has the coutry wide coverage with the latest technologies so that where evr you go in Pakistan you will get the feeling like home with the full signals.
Like Telenor Talkshawk SMS Packages telenor always give their customers new offers so that they have to spend less in against what they consume like you have heard about the different offers of Telenor Talkshawk including Telenor SIM lagao offer, Win merchandise DON 2 with Telenor Talkshawk, Telenor Talksawk Ra One Fever, Telenor Sonay Ki Jeet offer these all are the offers to facilitates its custmers and this is what Telenor Talkshawk promise with its customers. Here are the Telenor Talkshawk Daily, weekly & Fortnight SMS Packages list but let me tell you one thing that every package has a different way of activation and deactivation so see clearly what you are searching for so that you may have a complete knowledge about that package without any mistake.
Telenor Talkshawk SMS Packages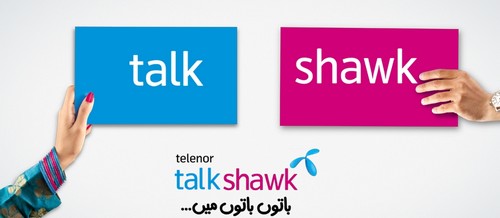 Telenor Talkshawk SMS Details:
| | | | | |
| --- | --- | --- | --- | --- |
| Sr. No | Package Name | Rupees | No Of SMS | Validity  Days |
| 1 | Bundle 1 | Rs. 5.98 | 150 | 5 |
| 2 | Bundle 2 | Rs. 11.95 | 350 | 15 |
| 3 | Bundle 3 | Rs. 35.85 | 1200 | 15 |
How To Activated Telenor Talkshawk SMS Packages:
A person can easily activate any of the desire SMS package while following these simple techniques
First of all ial 555 from your mobile set
Then press 5 to listen for the available SMS packages
Then computer will tell you about the above SMS bundle and now you have to select your SMS package and press the respective button.
Term & Conditions:
Free SMS is for any of the network in the whole Pakistan
Dial *111# to check free SMS after the subscription
Subscription fee are included of taxes
This is limited time offer
Here above are all the Telenor Talkshawk SMS Packages now its upon you that whose package you like and subscribe for yourself.