To accomplish the goal to become a doctor, Liaquat National Medical College MBBS admission 2020 is a good opportunity in this type of fee structure. Qualification is always a memorable one before entering professional life because after this one hopes to complete an educational career. Especially for medical students, this is dual time, on one side a candidate is excited because after this one becomes a proper Doctor. But before these, all things admission is the more important task, because of the minimum number of the medical institute. A best medical college in Karachi named Liaquat National institute admission 2020 for MBBS will open after a few months. After this new fee structure will come on board that covers all expenditures. Basically, this is the undergraduates and postgraduate program of LNMC that offers under the health science department. This will start after completion of inter with good marks.
Liaquat National Medical College MBBS Admission 2020:
Mostly, the updates of Liaquat National Medical College MBBS admission 2020 are generating via the online university website or through the newspaper. But, yet, these are not on both of these platforms.
Right to get the idea of starting of MBBS admission call on the 021-34412078. Yes, they will help u in this matter.
After the due date one not able to apply. Applicants are advised to must collect their application form from the cash department of this college against pay just only Rs. 2500 for Pakistani students and 75$ US for foreign candidates that want to be an admission to this college.
This institute is approved by the PM& DC Ministry of Health and also affiliated with the University of Karachi. This is one registered college that is best for this kind of study.
Liaquat National Medical College Fee Structure 2020:
Note: Online detail of their fee structure has yet not declared, so to get info call on the numbers.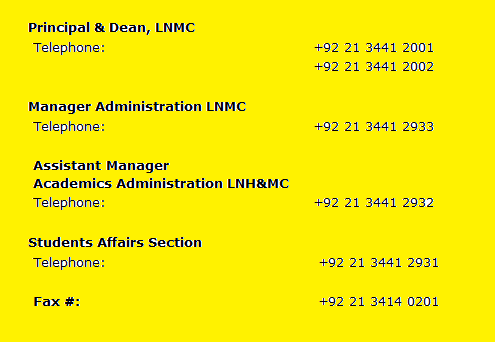 Fee Structure and Schedule:
Till there is not an announcement of its admission in 2020 or for the next session 2021. Further contact details mentioned above that must help one to get the latest info about all related things.
 This college has not created a difference between males students and females that offer equal opportunity for them. Further, its officials make sure that admission is totally based on merit. LNMC is formed with the aim that its open new innovations in medical education. The staff of this college aimed to gives their total effort that their freed candidates must become good professionals in the market.
They put all effort into the student to make them professional that's really known how to do work in the market and contribution towards the betterment of the people of Pakistan. Right now this is possible Liaquat National Medical College MBBS Admission 2020 and also of the Fee Structure that has come within days. Work hard if you want to carry on studies in this institute.