Mobile phone industry is growing day by day. Each and every company is launching new models of cellular phones to remain in the competition. Nokia have launched a new article Nokia Lumia 710 windows phone. Uniqueness is the biggest attractiveness among the customers while they purchase any mobile phone, that's why every company is focusing on taking initiatives and relying on creativity and uniqueness. The respective Nokia model is available in the markets especially in the UK. There's no doubt that this phone is a very powerful and well-built phone with a huge price tag; but there are several features which makes this model superior and very much prominent in the crowd of mobile phones available all-round the globe.
Nokia Lumia 710 Windows Phone Review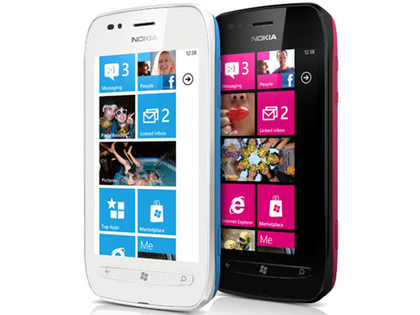 Nokia Lumia 710 Windows Phone Review, The features available in Nokia Lumia 710 are very much the same as found in Lumia 800. But this still makes the Lumia articles very much different in the huge market of Windows phone. The Lumia will use the 4G network from T-Mobile with very high working periods, greater surfing and internet browsing. The respective mobile phones uses Qualcomm Snapdragon 1.4 GHz that makes it faster in searching and browsing on the internet without any hindrance and interference making it a very smooth process. Another attractive feature in Lumia 710 is the changeable rear covers in various attractive colors. Although this is no new feature but having this feature in a Window phone is just a unique and enticing idea. The phone is available in 2 colors initially, black and white but there are 5 colors of the removable backs which includes Black, White, Fuchsia, Cyan and yellow.
If we discuss the specification The Lumia 710 has a 3.7-inch LCD screen with a WVGA 800×480-pixel resolution.The window phone has a 5MP camera and 8GB of internal memory. But the HTC Radar has a slightly larger 3.8-inch screen and a substantially lower powered processor – a 1GHz single-core Qualcomm MSM8255 Scorpion/Snapdragon.It comprises of Nokia's clear Black display technology which helps to filter the light properly resulting in improved contrasts and also improves readability when exposed to the direct sunlight. The phone has live tiles and large icons which helps the visibility more convenient although the size is small especially in the case of navigation. Underneath the display is an oblong bubble of plastic that serves as the button for the three Windows Phone keys: the Back button, the Windows button, and the Search button. It looks pretty cool, but they don't seem to be as responsive as expected to be. A good option having the latest features and technology and navigation has made Nokia Lumia 710 Windows Phone Review one of the best alternatives available in the market regarding the Window phones.