At last, the present government of Pakistan has fulfilled their promise to give low cast house to the needy peoples of this country. For this, its registration has started up from the month of Oct. First of all applicants need to download Naya Pakistan Housing Scheme Form 2018 form Nadra registration portal. Basically, the purpose of this registration is to know about your location and interest. Furthermore, after submission of application form, the official of this program will make sure that the applicant is eligible for this scheme or already he owns a house.  So, first of all, make sure that you have the complete document to prove your eligibility, otherwise, don't waste your time.
In the first phase of this Naya Pakistan Housing Scheme 2018, the form will issue to the Seven (7) district of Pakistan that are from Punjab, KPK, Sindh, Balochistan, Gilgit, and Azad Kashmir. Moreover, the names of these districts are given below.
Sukkur
Quetta
Gilgit
Muzaffarabad
Swat
Islamabad
Faisalabad
From the list of these districts, the government just tries to show that this scheme is not for a special province. And, no doubt, people from all over the country need this type of scheme through which they will get the chance to buy a home.
Naya Pakistan Housing Scheme Form 2018 Download:
One will download them from the Nadra Online portal.
Secondly, one will get this registration form from the District Housing Program Office. The photocopy of this form is also acceptable.
Naya Pakistan Housing Scheme Registration Form Date:
These forms will accessible from 22 Oct to till 21 Dec 2018.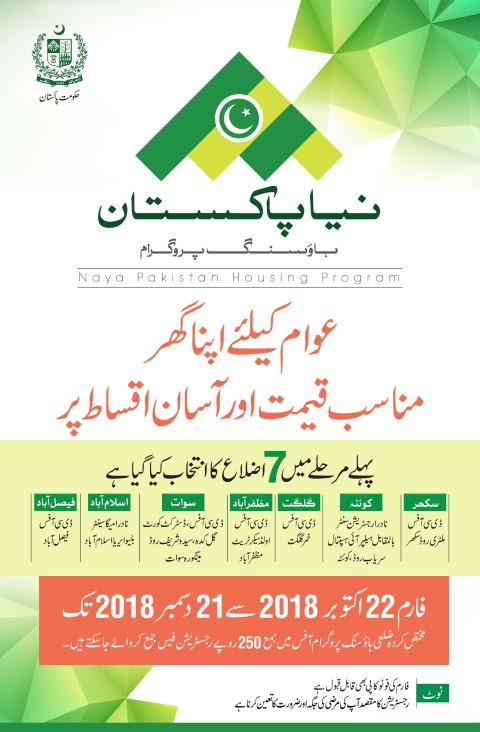 Where to submit Naya Pakistan Housing Scheme Nadra Form?
Government opens District Housing Program Office in every respected district, where this program will offer in the first phase. So after completion of form one just need to submit them in the related District Housing Program Office.
Location of these offices:
| | | | | | | |
| --- | --- | --- | --- | --- | --- | --- |
| Sukkur | Quetta | Gilgit | Muzaffarabad | Swat | Islamabad | Faisalabad |
| DC Office | NADRA Office at  Sariab Road | DC Office | DC Office | DC Office | NADRA Office in Blue Area | DC Office |
Here we also clarify an important thing that the entire registration is centralized with the NADRA. The basic purpose of this attachment is to check the applicant eligibility. So as mentioned earlier that don't try to scam, for sure official will catch you. Hopefully, a number of people will get benefit from it. And in forthcoming days other districts will also target under this program.