As the winter season arrives it bring along with it many complicated body problems and among such difficulties is the hair problems. When you live in such a place that is filled with snow and cold surroundings then it is quite obvious that you will surely discover the roughness and dryness in your hairs. However, for keeping the hairs beautiful it is vital that you should take proper care during the winter season otherwise they will get totally damaged as the winter season finished. Let us discuss some of the highest flying steps that would help all the men and women in keeping their hairs healthy during the winter phase.
Hair Care In Winter For Healthy Hairs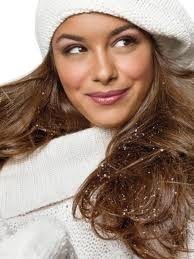 Foremost always wear a hat during the winter season because it will protect your hairs from getting damaged and save it from the excessive coldness as well. Moreover, during the summer season you must also wear a scarf on hairs for stopping the sun rays to reach at your hairs.
Secondly, do the process of hair conditioning twice a week during the winter time spell and let it absorb in eth hairs by leaving it for 20 minutes. Don't add up the flavor of oil in the conditioners because it can make the hair cells weaker.
Additionally, never prefer going outside with wet hairs because the winter snow will begin to attract towards it. Always dry the hairs properly even before wearing the hat as well.
Lastly, never take the hot bath in winter daily for hairs because the hair will slowly gets destroyed and will begin to face the hair loss problems due to massive hotness in water bath.
As we have discussed above that washing the hairs also require for some attention for making them shiner and healthy. Below are some of the essential tips for caring the hairs while bathing.
Whenever you use the moisturizing for hairs just leave it for maximum 20 minutes for getting excellent results. The more moisturizer gets absorbed into the hairs the more perfection outcomes will appear.
During the winter season as the hot water can damage your hairs so in such cases you can make the combination of daily used shampoo along with the daily shampoo that will make the hair scalp stronger for the glowing hair growth.
After the brief discussion it is concluded that hairs are also one of the prominent features of your body therefore they should be given an extra care in winter and summer season as well.