Ramadan is one of the holy and blessed months in Islamic calendar. This month is regarded as the fundamental pillar of Islam. The sacred month of Ramadan comes after the departure of Shab-e-Barat. Muslims fast for the whole one month and avoids drinking and eating from dawn till the sun set. In other words, this month is a great Muslim festival. This month teaches us the lifetime about brotherhood, nearness to God, and helping the needy people. It is celebrated with pomp and show. The Muslims offer the prayers and reviews their past evil deeds and demands for the absolute submission of forgiveness from the God. During this month God opens the door of paradise for his mankind and blessed them with his merciful blessings. As the Muslim bow down on his knees before the God he feels a sense of satisfaction of having purified himself bodily and spiritually. Additionally this holy month of Ramadan brings us closer to God and shows us our path and aims towards Islam.
During the fast Muslims are not only required to avoid eating but they should also overlook other bad habits and deeds that may becomes a hurdle between them and God. After the whole day fast as the sun sets Muslims break their fast with 3 dates and a glass of water as it was the same way as our Holy Prophet (PBUH) used to open the fast.
This time period of fast has been given the name of Iftar. Furthermore Ramadan also gives us the valuable lesson about donating and contributing with others. We should generously help others and act nobly to qualify our self in getting the entrance in good books of God. We should whole heartedly distribute food and needed things of daily use among the helping people.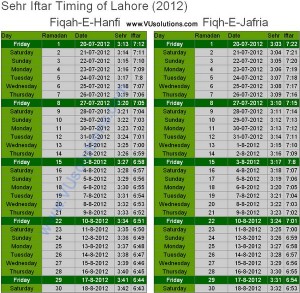 On the whole this blessed month marks the arrival of Eid-ul-Fitr that is considered to be a gift from God for his mankind. This month brings out the spirit of Islam in concrete manner. They makes us realize the true meaning of hard work, purity and worship and makes us conscious about the fact that sharing each others happiness is the social happiness as advised by God. However when we return to the sea of daily corruption and impurities we can easily sail on the boat of Ramadan to reach the destination of everlasting Heaven. Moreover Sehri and Iftar timings schedule has been introduces for the people of Lahore.