Basant in Lahore 2013 will conduct on 14 April 2013 after the announcement of care taker prime minister of Punjab. From here you can also find Basant night celebrations videos. Every one tries to celebrate Basant night in its own way. But if one sees the previous celebrations of this festival then they will start from night with traditional dinner in full Punjabi style serving with drinks (Lasi). And at mid of night these celebrations are goes to its peak when night kite-flying will start that sees colorful and attractive. On this night peoples give preference to light colors kites because on night dark kites are not quite clear. Participants try to dance on fast tracks on this night after cutting the kites. So everyone try to save these Basant night celebrations in videos. On next day participation of girls is increase; they prepare special dresses for this day. Majority of girls wear yellow scarves and ladies will be decorated with Gajras. This day will start with traditional Punjabi style breakfast. Then everyone tries to flying kites and participates in flying competition. Dance and enjoyment in Punjabi style will carry on throughout the day. Few peoples enjoy with the performances of by famous folk singers, different kites stalls also decorated with beautiful flowers. At end everyone tries to end this festival with again marvelous Punjabi style dinner.
Basant in Lahore 2013 Basant night celebration videos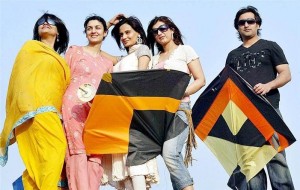 Basant in Lahore 2013 Basant night celebration videos are given there…
If one sees the history of this festival then it belongs to Hindus. Before partition they celebrate it in Lahore, this is not their typical religious event so Muslims also participate in it. Through this everyone get chance for lot of fun and enjoyment. So when Hindus migrate to India then they left its roots in Pakistan and till now peoples use this day lot of fun and enjoyment. From a period of time a group of peoples use this day in wrong manners so government banned it. Now again after a huge pressure of performance government allow it. Hopefully this time Lahoris celebrate Basant in Lahore in right way and make sure that no wrong activity will take place.