Few of reader must surprise with Toyota Prius 2023 price in Pakistan but don't forget that its of brand new rate. If one is rating vehicles on basic of fuel usage; then Prius is at on top. Few years back, local people of this country had faced many problem to find its fresh model. But now of 2023 very latest model of Toyota Prius is available in Pakistan with a bit high price. But still this is most appropriate vehicle of this range. Basically hybrid tech makes it very special, (in simple words its engine get support from batteries). Meanwhile, its luxury interior is the finest one with very good space.
While no one will match its exterior curves. This is the major cause, that people are crazy about this automobile. This Prius has touched the market with almost local assemble variant. For sure, its buyer are more happy, because now they will buy a brand new model.
Toyota Prius 2023 Price in Pakistan:
A revised Toyota Prius 2023 price in Pakistan is approx. 14,700,000 Rupees that is coming close to the 1.5 Crore. Of course, it again increase.
| | |
| --- | --- |
| Toyota Prius Model Year | Price in Pakistan (Approx.) |
| 2023 | Approx. 14,700,000 Rupees |
| Note: | Its booking is on hold at this moment by company. And withholding tax is not part of this price. |
This car lies among the list of most selling at its first launching year. Every time Toyota has set up some new and refreshing looking designs of Toyota Prius that has been always loved and appreciated as well.
When the person firstly looks at this car then they just get impressed with its safer mode, stylish style and magnificent covering that just force the people to forget blinking their eyes. From interior to exterior all latest features are adding in it.
Important Features of Toyota Prius:
"Interior"
From Cruise Control to Auto Ac options, every type of latest tech is covering in this vehicle.
As its clear that form inner side; its equipped with all kind of latest options.

"Exterior"

A pic with the latest shape:
With Multiple Color Options: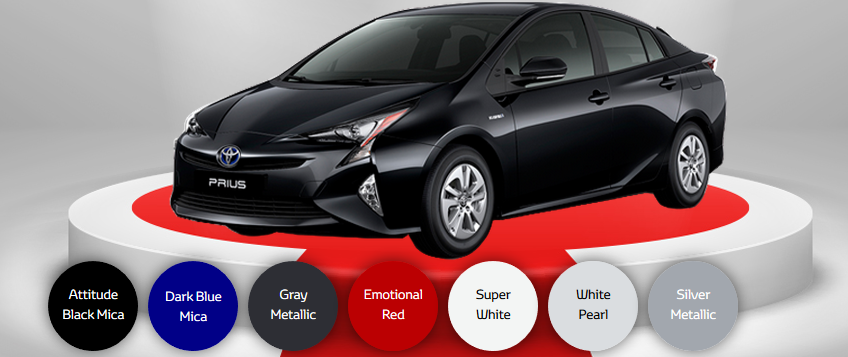 Its existing actual market rate is almost 1.4 to 1.5 Crore. But one can buy a very good option in between 45 Lac to 70 Lac in previous models.
Without any doubt, a major strength of this country is afforded this kind of range.
Engine and Dimension:

Here another thing to clear is that this all info is of a brand new car; because now company starts its local assembling. In past, these all are imported from Japan, but now as with the passage of every year its demand going up officials decided to launch brand new. Right now in this country, this is a luxury car to buy, because this is a complete package in one vehicle. Those who afford Toyota Prius 2023 price in Pakistan never miss the chance to drive on it. One can say it a superior one in this range.