Now time came close for the announcement of Na 48 Islamabad By election result 2013 between Asad Umar PTI vs Ashraf Gujjar PMLN.  You can find this result of Na 48 on evening of 22 august 2013. This is one important consistency of Capital city Islamabad. From which more the 20 candidates submit their nomination papers. But the original competition will accept between PMLN candidate and PTI candidates. PTI confirm their candidate before one month and they give the name of Asad Umar that is an active member of this party and he never contests in general election. But now party decides to give him ticket from this consistency. On the other side major party is PMLN who have lot of conflicts regards to ticket from this consistency. A lot of news arise regarding to this issue and three names are in news regards to ticket that are x candidate who win this seat in 2008 election Anjum Aqeel. Second name is Hanif Abassi that also an active member in this party and in this election he lost his seat against strong PTI leader after a marvelous competition. From here you can find the by election result 2013 of Na 48 Islamabad as officially it will announce.
Na 48 Islamabad By election result 2013 Asad Umar Vs Ashraf Gujjar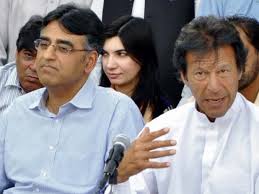 Na 48 Islamabad By election result 2013 Asad Umar Vs Ashraf Gujjar is given there..
But beyond these two strong candidates party decides to give ticket to a famous lawyer that also belong to this area Ashraf Gujjar. Although he had not a big name in politicians but in lawyer's community he is an authenticated name that works from a long period of time for this party. PMLN finally decides to give ticket to Ashraf Gujjar and local leadership also claim that he is one favorite person from NA 48 that able to give tough time to PTI candidate. Further time decides that who get the By election result 2013 from Na 48 Islamabad in their favor. But till now it will a close competition and it's early to say something about the final results.