Good news for Lahories is that after five year now they going to celebrate Basant Festival 2013. Previous government banned this event for five year but now temporary prime minister Punjab Najam Sethi allows to celebrating Lahore Basant Festival on 14 April 2013. This is one beautiful and attractive event, friends and relatives get chance for get together. Sky is full with different kinds of kites that present a marvelous scene. While youngster energy and dance on fast tracks make this day more beautiful. This is not only kite's competition; peoples get chance for lot of entertainment on this day.   Although in past earnings of 5 billion rupees is generate through this festival but this also cause of innocent death. Peoples used different dangerous thing for entertainment just like firing and usage of chemical thread that are really harming for any people. If these couple of things is controlled then this is one beautiful and attractive festival. This year government tries their level best to minimize these worst factors that cause obstacles in the progress of this historical festival.
Lahore Basant Festival 2013 14 April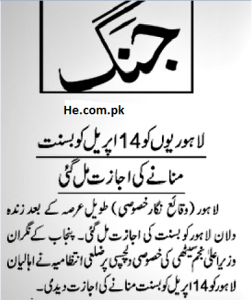 Lahore Basant Festival 2013 14 April is declare…
If one sees the history of this festival then it is one most historical event in subcontinent. Although before partition of subcontinent it will consider as Hindus festival but Muslims youngster also celebrate on this day with their own ways. Another important thing is that at separation time almost Lahore Muslims and Hindus are equal in Lahore. But they migrate to India and left this tradition that still remains in Lahore. Another beauty of this festival is that it will celebrate in lovely spring and every one enjoys weather that is not too much hot or cold. Hopefully this time LAHORIS never miss this chance of enjoyment and take benefit from it in positive way.