Do you want to find Honda generator prices in Pakistan 2.5kva, 3kva, 5kva, 7kva? From a period of time demand of generators are too much high in Pakistan. Now with the passage of time energy crisis enter in serious mode. Due to these energy crises now loading shedding is one major problem of Pakistan. This problem is having worst effects of Pakistan industry now they enter in a stage that it's compulsory to see alternates. Now mini industry and families looking towards generators those are able to fulfill their major requirements. When one chooses generators as a source then they focus on its consumption with its efficiency. In this race Honda generators is seeing to forward from others generator companies. They try to fulfill every requirement of users. For this they introduce different models of generators and with the passage of time they also had done improvements in them. Now in recent models they introduce latest technology due to which they become more consumption efficient and after this they also solve major problem of noise. In short these are perfect generators for all type of users.
Honda generator prices in Pakistan 2.5kva, 3kva, 5kva, 7kva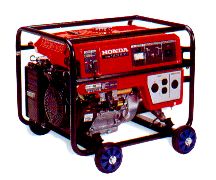 Honda generator prices in Pakistan 2.5kva, 3kva, 5kva, 7kva is given there…
Honda Generator 2.5 KVA price and Specification:
If one sees the specifications of this generator then its rated output is 2.5 kVA. This generator is suitable for the usage of 2 Fans, 2 Lights, 1 TV. And with this usage its consumption is .92 liter per hour. They also give option of gas in this generator so on availability of gas you also take benefit from this feature. Honda Generator 2.5 KVA price in Pakistan is 60,000 rupees.
Honda Generator 3.5 KVA price and Specification:
Rated output of this model is 3.5 KVA. In this generator they increase oil tank and increase tank capacity up to 25 liters. They also had done a lot on its noise problem due to this they limited it on Noise Level 70 dB. It will male for the usage of 7 tube lights, 7 Fans, 2 TV (upto 21″), 1 Fridge. With this usage its consumption rate is 2.5 litre / hour. These generators are available in 1 year Warranty. Price of Honda 3.5 KVA Generator in Pakistan is 80000 rupees.
While Honda 5kva generator and Honda 7kva generators are designed for those whose usage are too much high, they are also able to run Air Condition as well as Fridge. In Pakistan 5KVA and 7KVA Honda generator prices are 95000 and 120000. In these prices they are reasonable so must take benefit from them.