As Timepey and Mobicash have arrived in the market so we are sure that you would be desperate to know about the standing comparison of Timepey and Mobicash. As we all are aware from the fact that in the past timings the process of starting the finance banking was initiated by Telenor with the name of Easy Paisa but soon after it Mobilink and Zong even put their steps into this business as well. Now recently Mobilink has arrived with Mobicash and Zong has launched their finance service with Askari Bank as Timepey. These both services have been established just with the gap of few days and people are much excited to know both of these facilities and compare their convenience heights.
Comparison Of Timepey And Mobicash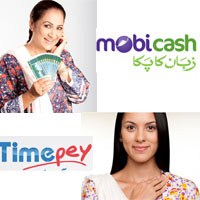 ZONG TIMEPEY SERVICE:
On 1st December 2012 a huge event was organized for the launch of Timepey offer that was set up from Zong along with the collaboration of Askari Bank. Before the launch ceremony the advertisements were greatly running on the television screens that identifies that something buzzing was arriving from Zong. But this offer was much resembled with the Telenor Easy paisa offer because the ceremony of Telenor service was also launched on 2nd December and much of their advertisements were even much similar with the Telenor as well. But still no one can give critics comments over this offer until it is not appearing as useful for the customers.
MOBILINK MOBICASH:
On 29th November 2012 Mobilink arrived in the market with the branchless banking system named as Mobicash. This offer has been functioning for quite a long time but it was not publicly appeared in front of Pakistan but now it has finally arrived with the bang. They have not even carried out any advertisements and campaigns because they just believe in serving and easiness of their customers. They have not even made the choice of highlighting the service through the ceremony.
Well on the whole of it there have been many comparisons that are arriving within these two offers. Both of them are aiming at banking service that grants the sole chance of paying the bills and sending and receiving money from one place to another. But we must say that both of these networks have surely copied the idea of Telenor Easy Paisa for sure. Let's see that which of these two networks will live up to the hopes and expectations of the people and which network will just come across as "Copy Cat".