Comparatively the working of Nokia Customer Care Center in Lahore or Karachi and Islamabad are best in support. No doubt, Pak has been marked as one of the good countries that are a part of this telecommunications market. We have now been moving towards advancement. Almost all of the manufacturers have been facing success in their field. This is the reason for competition between these companies. But, if one checks the top one among them then Nokia lies at top of this list. Customer care centers of Nokia are active in almost every big city. They target all big and small cities include Peshawar or other cities too.
They add advancements to be done on their mobile phone so that more revenue and profits can be generated from it. Although their sales rate going a little bit down in the last years. This year official aims to come back and wants to get its peak at its previous position.
Nokia Customer Care Center in Pakistan:
All of the Nokia Customer Care Centers In Pakistan provides the facility for repairing under very skilled persons and engineer's supervision. All of these centers are properly aligned below.
Before forming these centers, Nokia conducts research in Pakistan and found that the warranty claimed by the different dealers of Nokia does not provide satisfaction to the customers. So management decides to open officials outlets in Pakistan where all the work is done with satisfaction.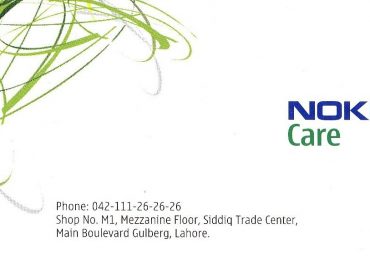 Nokia Customer Care Center Lahore:
It is working across the world but now the Nokia customer care center Lahore contact number has been initiated and guides the customer for required problems. people can go to the following destination where they are working.
| | |
| --- | --- |
| Location | Contact Number |
| Third Floor Hassan Tower, Gulberg 3 | 042-35784845 |
| Zaman Plaza, 1st Floor Hall Road | 042-35784845 |
Nokia Customer Care Center Karachi Contact Number:
Before purchasing some people visit the customer care center and want to see the mobile look and know about the features of the phone. but Nokia care center Karachi contact number exists for the gather of info about android gadgets.
| | |
| --- | --- |
| Location | Contact Number |
| This is in Amma Tower Basement B 119, Plot number 71, NI Line Cross of MA Jinnah Road, and this is opposite Bambino Cinema, Karāchi | 022132361689 |
Nokia Customer Care Center in Faisalabad:
Some time mobile creates a problem with different way then customers prefer those place where all solution available. Nokia customer care center in Faisalabad brings multiple services about android technology.
| | |
| --- | --- |
| Location | Contact Number |
| Regent Mall, Shop No. 115 and 116, Ground Floor 265-B, Peoples Colony | 0418555090 |
Nokia Customer Care Center Islamabad Contact Number:
People can easily claim those mobiles that are under warranty because the company decides a specific time Nokia care center Islamabad contact number if the mobile will bring a problem company will responsible for this problem while Nokia customer care center Islamabad contact number is given and hopeful the company will replace the things.
| | |
| --- | --- |
| Location | Contact Number |
| Mehmood Plaza, Mezzanine Floor Office Number 6, 6B Fazal e Haq Road, Blue Area | 0512344340 |
Nokia Customer Care Center Peshawar:
Under the observation of customers demand Nokia customer care center peshawar successfully launched and people are taking instruction about the issue. Their service center contact number and address is:
| | |
| --- | --- |
| Location | Contact Number |
| Falak Sair Plaza, 4th Floor, Office No. 16, Saddar Cantt | 0515700141 |
Instead of claiming your Nokia Warranty from any other dealer go to your nearest Nokia customer care center In Pakistan in your city so that your work could be done under the supervision of highly qualified and trained staff to provide you fully mentally satisfactory. Now we see that the future of this company in Pakistan is quite promising.
Now each and every Pakistan, be it an old man or be it a young guy, we see mobile phone handsets in each and every hand. Nokia customer care center in Pakistan are trying to become more efficient in Lahore or other areas and tried to get back this company at peak. This added much value in their services that is fundamental need to get fame back too.