The entire detail about the online number booking service introduces Zong is here for you. According to survey that Zong is the most popular and leading mobile network company in Pakistan which offers attractive and affordable packages to its customers. Recently, Zong has introduced online number booking service to its users. By using this service, customers can easily buy the Zong SIM from the official website of Zong. After assuring the booking online, users can collect their SIMs from the particular authorized franchisees and users can also collect through customer service centers. Moreover, this latest and incredible service has been introduced in order to facilitate new users. In this way, new Zong users can easily book their SIMs through the official website of Zong and they can be easily collected from their nearest franchise.
Zong Introduces Online Number Booking Service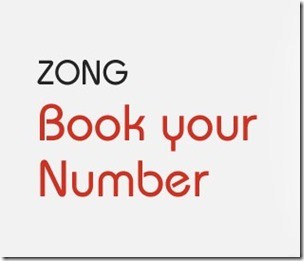 In additionally, we would like to mention that Zong is also offering opportunity to the users for SIM order by booking at the particular call centre, CS centre, franchise and retailer. Moreover, we would like to mention the new number series i-e 03111XXXXXX and 03110XXXXXX has been introduced and customers can easily get their number according to their choice. Another thing we would like to mention that users can make at least five bookings of SIMs against the same ID. After the submission of booking request, user will get the ticket number. It is important that customer should keep the record of the number because he/she will be requested for presenting along with his CNIC copy at the time of SIM handover. For the convenience of readers, if they want to do book their number online then they should visit this URL which is mentioned below: http://115.186.182.11/mbyn/
Finally, we can say that this is considered to be best service offer by Zong. So those customers who want to buy new Zong SIM they should not get worry and just avail the latest offer by Zong. So if you want to save your time then just visit the above mentioned URL. After visiting the official website of Zong, they can easily book their new SIM through online facility. Lastly, we would like to mention that the terms and conditions of this service are very simple and every new customer who wants to buy new SIM can easily book by using the online service. So all users of Zong who wants to buy new SIM should not waste their time and buy a new SIM through the online booking service of Zong.