This new mobile network company has revolved every one by announcing the prize money of Rs.10 million under its karoron ka offer. Through this offer, Zong subscribe can win a cash prize of Rs, 100,000, Rs, 500,000, and a massive prize of amount 10,000,000. This campaign end of 31st August 2012, so there are not too many days left in it. Before this multiple companies introduce some offer in the Pakistan market, so now Zong comes up with this one that is massive then their competitors. You have subscribed to do is just use Rs. 10, on every day by using this minimum amount or more for 5, 10, 15 days you will be a part of lucky draw automatically and can win these amount respectively. Director sales and distributers of this company said, "We are glad to share our completion with our customer. We are thankful to all subscribers".
Surely this is good gesture that every client need from their company. Its true to says that these are birth year of this company, that why they need to introduce these type of things to attract their customers.
Lucky Draw:
This will held on start of September, so the more one will use the minutes. One will get more option to win the bumper prizes.
Support Functionality:
With this company also introduce a system through which one will check the daily usage. Its process is very simple, one just need to dial *221#, with in minutes all detail will come on screen. This is free of cost, so never need to worry.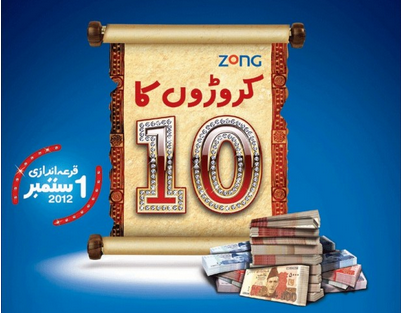 This company has attained outstanding success during the past year; they always glance to share its success with the customer. This offer is also a part of the same ideology to reward the customer for replacing their trust in Zong. Its more then a golden chance, because by spending just few rupees one will be part of this draw. Let see who will be the lucky individual to get this handsome amount of money.