Internet is now one of the most important and essential tool of life. In the early ages of internet, the internet was available only on desktop computers connected through the wired network. But as the invention of portable computers the internet becomes the thing which can be accessible by any wireless device through the Wi-Fi connectivity. Now internet is easily available on smart phones and the services are now also being provided by the cellular companies respectively. This is the age of competition , people are continuously up to date in this race, trying to get win from each other , same here all the cellular companies offering different rates for internet , and they try to offer cheap rates in order to catch the customer more efficiently. Through the internet the world now become a global village, you can easily chit chat or can access a particular amount of data at anytime from anywhere from you cell phone or smart phone respectively.
Ufone Internet Packages 2014 Daily, Weekly, Monthly Unlimited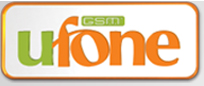 Here are talking about the most leading telecom company Ufone, as we know this particular Company having best internet packages, let's have a look on them.
Sr. #

Mobile Internet
package Name

Package
Volume

Subscription Charges

Validity
Activation SMS Shortcode
1.
*Special Daily Mobile Internet Package
75MB per Day
Rs.4.99/- Inclusive of Tax
01:00 AM to 09:00 PM
810
2.
Hourly Internet Package
Unlimited
Rs. 15 per hour Inclusive of Tax
Unlimited
806
3.
Daily Internet Package*
50MB per Day
Rs. 10/-Inclusive of Tax
24 Hours
804
4.
Endless Internet Monthly Bucket
Unlimited
Rs.30/- Inclusive of Tax
02:00 AM to 09:00 AM
7813
5.
Prepaid Mobile Internet 5
5 MB
Rs. 50 Inclusive of Tax
15 Days
801
6.
Prepaid Mobile Internet 30
30 MB
Rs. 150 Inclusive of Tax
30 Days
802
7.
Prepaid Mobile Internet
2 GB
Rs. 200 Inclusive of Tax
30 Days
7807
8.
Prepaid Mobile Internet Unlimited
6 GB
Rs. 500 Inclusive of Tax
30 Days
803
9.
Postpaid Mobile Internet Unlimited
Unlimited**
Rs. 500/-
30 Days
805
10.
Postpaid 2GB monthly Internet Data Bucket
2GB
Rs. 200/-
30 Days
4547
Weekly Internet Package
Ufone offer oly a single weekly internet bundle for its customer at a rate of 50 for 5Mb. It is also a bearable rate for those who are regular internet customer.
Daily Internet Package
Daily internet packages are 3.99 rupee for per 2Mb respectively. This offer will automatically activate for the next day if you not put it on the unsubscribed mode. And unlimited for 15Rupee per hour is also being offered by the company for the users who rarely use internet.
Monthly Internet Package
Monthly Bundle packages having a rate of 150 and 500 at a download limit of 30Mb and 1.5 GB respectively. People who are regular visitor of internet and having their own business outside the city sides avail this package and do enjoy the services quite respectively.
Internet packages being introduced and launched by the Ufone is almost covering every region of the Pakistan. And people are being enjoying the services particularly from the provider.