Now in Pakistan PTCL launches cloud services in Pakistan. PTCL take initiative to launch these services to facilitate all those servers that had huge load and face difficulty in hosting side. Due to this problem most of time their websites will not browse when load will increase. While in recovery of website this problem is also in front of them. This problem is now a daily routine of all those websites that had handsome traffic. Through Cloud services this load will not harm your website and will work without any distortion. Various packages are also including in this service that one can take benefit according to requirement. Further detail of these packages with given rates are given as below.
PTCL Cloud Package 01: 100$
PTCL Cloud Package 02: 190$
PTCL Cloud Package 03: 350$
PTCL Cloud Package 04: 680$
PTCL Cloud Package 05: 1340$
Cloud Services Launched by PTCL in Pakistan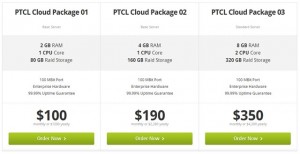 Detail of Cloud Services Launched by PTCL in Pakistan is given there..
Initially they covet major cities in this service that includes Islamabad, Lahore and Karachi. They establish major setup in AIOU main campus. Officials of PTCL announce that they take initiative in order to give benefit to all those sites that face difficulty. They launch it with lot of hopes and they also try to make it possible that they give these packages in affordable price. Whole business community specially takes benefit from this facilitation, because they are especially affected from this problem. If one sees other companies that take give facilities of cloud services. Then now three other companies also worked on it. They all also doing good job but still a lot of gap is available in this field. Hopefully this step of offering Cloud Services Launched by PTCL in Pakistan play an important role to fill this gap.