Looking for a fuel efficient car in Pakistan? This is the perfect choice! This vehicle is known for its great petrol mileage, making it an ideal option for those who are looking to save money on fuel costs. In addition, the Swift has a large tank capacity, meaning you can travel long distances without having to stop and fill up again and again. So if you are in the market for a brand new or bit used car that is both affordable and efficient, be sure to observe Suzuki Swift 2022 fuel average in Pakistan, as well as, the tank capacity that is a big fuel trunk.
Suzuki Swift 2022 Fuel Average In Pakistan:
If you are considering buying, the very first discussed query is that what the fuel economy and tank capacity is. The Suzuki Swift is definitely a great pick. The fuel average of Suzuki Swift 2022 is around 15 t0 19 KM/L that make him the most economical option in the Pakistani market.
Average on Long Routes: It can cover 15-19 kilometers per liter on long ride. This is majorly depends on your drive as well.
Within City: It's fuel average reduced a bit on short routes but still it give you almost 14 to 15 KM/L
Additionally, the Swift also has a decent tank capacity which means that you don't have to worry about running out of fuel in the middle of nowhere.
In the latest version of Swift 2022, the outer look is completely changed and room is also now more comfortable and wide. Thanks to its lightweight construction, the Swift is also a nimble and fun car to drive, making it complete for every type of driving.
Suzuki Swift Automatic Fuel Average Pakistan:
In normal usage, the average fuel economy for the Suzuki Swift automatic transmission is lower then the manual transmission. But drive wise, automatic has no comparison with the manual. This automatic variant average is:
Suzuki Swift GLX CVT 2022 Fuel Average within City: It's in between 11 to 13 Kilometer per Liter
Fuel Average of Suzuki Swift Automatic on Long: From 13 to 15 KM per Liter
So, if you're planning a road trip or has a regular usage within city, the Suzuki Swift is the ideal for you. Specially, this of the new variant is very advance.
Suzuki Swift 2022 Fuel Tank Capacity Pakistan:
This stylish hatchback has a total fuel tank capacity of 37 Liter. This means that drivers can travel for up to 515 Kilo meters after a full refuel. Although, the swift in other part of world has bigger fuel tank then this that is probably has 43 Litre capacity. Yes, their is good difference in them.
Fuel Tank capacity of Suzuki Swift in 2022: Almost, 37 Liters
Maybe, they reduce it for the environmental purpose or something else. But, customer is yet satisfy with it. Further, after long wait of years, the new shape has been brought out with improved fuel average which is pretty good.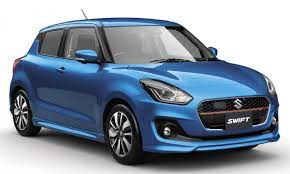 FAQ:
What Is The Fuel Average Of Suzuki Swift 2022?
The fuel average or economy of the Swift has been improving over the years and is now one of the most convenient in its class having average of approximately 12 to 16 kilometers with one liter.
What is the performance of Suzuki Swift?
The recent generation model was came few months back. This has received mostly positive reviews from automotive experts, admiring its handling and shape. However, many have criticized it just because of price. Otherwise, all of stuff is fine.
After the recent changes, you can enjoy a smooth ride even on the roughest roads. Thanks to the Suzuki company who update Swift a great car to own.
Despite of such high rate, the tank capacity to the Suzuki Swift 2022 fuel average in Pakistan is attracting the buyer. Being a high quality car it will give you back what you spend on its purchasing. Maybe, in future, rate will reduce a bit that also impact on the sale too.