Do you miss out spotting the first day of Karachi Fashion Week 2013 spring and summer collection? Do you want to catch out all the thrilling and exciting details about the event? Well in this article we will be highlighting out all the prominent news out from Karachi Fashion week 2013. This fashion event has been so far marked out to be one of the top famous and popular events that are seen in the fashion world. Every year many notable and well known skillful fashion designers take hold over this happening for showcasing their skills in fashion designing. The Karachi Fashion Week 2013 spring and Summer Collection has one more time arrived in the fashion world in the City of Glamorous and Lights, Karachi. This event has all exploded on 27th January, 2013 at Expo Center. For the readers we would like to mention that this event will be capturing 30 well renowned and distinguished fashion designers that will not just be national known ones but even includes the international designers as well. Some of the countries will be India, Pakistan, United States, Los Angeles, Malaysia, Nigeria. They will be launching their clothing collections for spring and summer seasonal happenings.
Karachi Fashion Week 2013 Spring and Summer Collection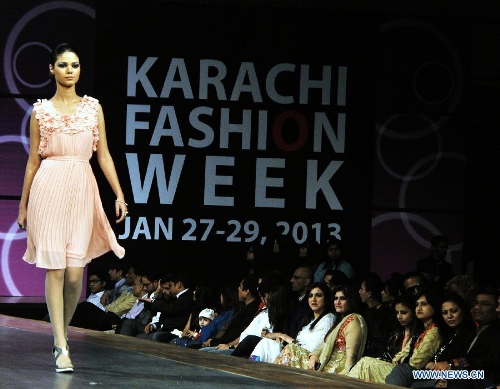 Well along with the designers they will even be capturing the media and top models from the international level as well. The main aim of commencing this event is to expand the fashion industry of Pakistan on higher international standards so that it can gain more and more name. The choreography of the event will be carried out by Imran Kureshi whereas the styling and makeup of the models will be stunningly done by Huma Tahir. Male models will be freshening up by Bilal Khan. This whole event has been perfectly planned and arranged by Excellent Events and Entertainment in the supervision of Pakistani Fashion Council. As regard the national designer collections has been concerned then there are many brands that will be arriving with their summer collections adding with Karma, Just Pret, Gul Ahmad and so many other renowned names. In addition, the Creative Head of Karachi Fashion Week 2013 is Tariq Amin who is a famous name in the styling world. At the ending point we would like to suggest all the fashion lovers that it would be there greatest mistake if they will fall to spot this event. So just rush to the Expo Center now and witness the talented designing skills on national and international designers.