With every aspect a Essay on Wedding Ceremony in Pakistan that  must clear whole factors. Pakistan is a land of different faces. Here in Pakistan different people with different cultures and traditions. A wedding is a traditional ceremony which forms a relationship between bride and groom. It not only creates a relation between two persons but it makes a good and healthy relationship between two families. In Pakistan wedding is of colossal importance. Various cultures have distinct ways of celebrating the wedding of two individuals through different traditions and cultures. Some wedding functions have its reasonable value and are of great importance according to religion. But some are considered just wastage of money and time.
Here we will discuss some traditional celebrations in Pakistani weeding function.
Mangni: It considered as engagement in which two family formally accepts each other. It is a small celebration in which some guests from families give blessing to both and rings are exchanged between brides and groom. Some time people decide wedding date in this function.
Dholak: It is first function in Pakistani wedding celebration. Normally theme of this function is yellow. Bride and other girls dresses are seen tradition and some girls wear paranda to give a pure traditional and cultural look. This function is normally arranged by bride's family. Friends and family members apply ubton on brides face. It is considered as a traditional celebration.
Mehndi: It is considered as traditional function. It is also arranged by brides family. normally theme of this day is green. Girls wear green and bright colors to give cultural look. Girls formally plan mehndi dances and how to celebrate this as traditional function. Mostly girls wear sharara, lahnga, garara and frocks to give pure cultural look.
Barat: It is also arranged by bride's family. It is a formal and all friends and relatives take part in this function. In this function the major thing which accour is Nikkah. Nikkah is a commitment between bride and groom. In this celebration there are 4 peoples from both families who are responsible.
Walima: It is arranged by groom's family. As in barat bride whole family, relative and friends takes parts. Same is the case in walima. All members of groom family takes part in this function. Islam is in favor of walime celebration. This is dinner in honor of that newly wed couple.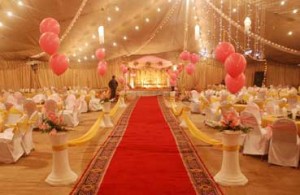 Here we have discussed some major functions of Pakistani wedding. Some people add some more functions such as date fixing, dholaks etc. and some purly adopts islam way of wedding first nikkah and then formal dinner from grooms family in honor of newly wed couple. It all depends on resources you have.