The developing countries have many problems in common. If we talk about the names of developing countries then we have to mention the name of Pakistan in that list. Unfortunately, Pakistan is included in the list of developing countries. Today, Pakistan is facing many problems as a developing country. In this post, we will discuss main problems in Pakistan as a developing country. If one will get rid from these issue, then for sure one will put a step towards the progress. Lets check out the main problems are as follows:
Firstly, Pakistan has a very outdated, outmoded and outlandish feudal system which has brought about 75 percent of our population and three-fourths of our land to a standstill situation. Pakistan has been under the constant dead weight of the feudal lords or big landlords.
Secondly, the new industrial and business magnates in the cities need to be trained and controlled so that their position and wealth do not become a problem for society. They should be made to pay full taxes and to contribute for the welfare for their employees and servants.
Thirdly, Pakistan with so many other developing countries like Afghanistan, India, Bangladesh, Brazil and Mexico is enmeshed in the narcotic business. Some northern areas in our country product heroine that is smuggled out enriching our traders gently.
Fourthly, illiteracy is considered to be the greatest evil of Pakistan because of which the people cannot understand their problems and social realities as well. In fact, almost 80 percent of people are illiterate or semi-literate.
Pakistan Problems As A Developing Country
Moreover, connected with illiteracy is overpopulation or population explosion in the country. The poor and uneducated people have the largest number of children and biggest families. It is in their ignorant boredom and ignorant situation that their minds do not co-ordinate rationally.
In additionally, unemployment goes hand in hand with the abnormal increase in population. The economy should expand, industrialization should be faster and technical and industrial education should be imparted on the large scale.
The problem of rising prices or inflation or the fall in the value of the rupee is constantly painful for the common person. This problem is directly connected with underdevelopment of the economy.
The problem of rapid shift of village populations to the cities and pressure on cities can be addressed by our developing country properly. By setting up small and export oriented industries and by increasing commerce between villages we can provide employment opportunities to villagers.
The rising tide of the crime especially in the cities in the form of dacoities, murders, sexual abuse and corruption in different forms can only be checked if the solution to the eight big problems outlines above can be suitably found.
Lastly, the problem of national integration or national unity by neutralizing the fissiparous tendencies in the provinces needs to be resolved. All forms of ethnic or racial and provincial feelings that cut across national unity needs to be replaced by patriotic and nationalistic feelings.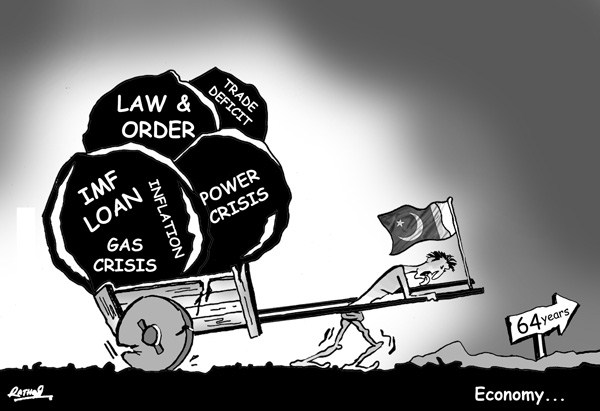 Like other developing countries, Pakistan needs the democratic set up. With an educated population, industrialization is full swing, agriculture in full development and social peace our country can be truly advanced one.