Nokia a well renowned brand common in Pakistan finally unleashes three New SmartPhones of Asha Series. Three Mobiles of Asha Series having low cost and with touch Screen Phones. The range is deigned for Younger who is also wants to much social in any kind. Asha 305, Asha 306 and Asha 311 is having web browsing , social networking and gaming as well. Mobiles Phones comes with latest trendy desings and pre loaded Facebook and twitter.The Nokia Asha 305 and Asha 306 both boast 3in touch screens, as well as a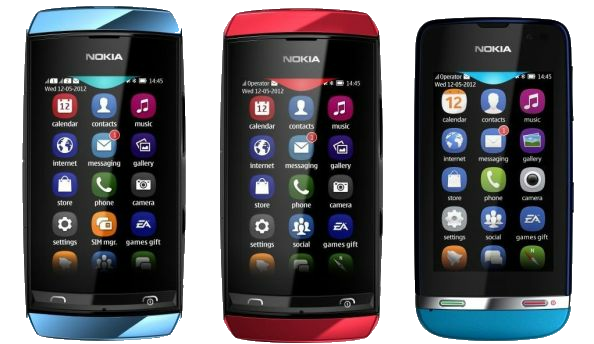 2-megapixel camera
GPRS/EDGE data connectivity
Nokia maps
Additionally, the Asha 305 will feature
Easy Swap Dual SIM, allowing users to easily navigate between multiple SIMs using one device. The Asha 306 will ship with Wi-Fi capability. Handsets will be available in Silver White, Red, Mid Blue and Dark Grey.
Asha 311
3in touch screen
3.2-megapixel camera
3.5G HSPA connectivity
1GHz processor
It will be available in Dark Grey, Rose Red, Blue, Brown and Sand White.
The Nokia Asha 305, 306 and 311 will respectively retail for €63 (£51), €68 (£55) and €92 (£74).
No exact release dates given. It is expected that Asha 305 will be available in the second quarter of 2012 and Asha 306 and Asha 311 will ship in the year's third quarter.
Nokia announces Three New Asha Touch Phones
Comment Section Provides you space to write about these Mobiles briefly.