CG 125 New Model By Atlas Honda With Euro 2 Technology has launched for the customers in Pakistani market. This is the official news from the Honda Pakistan or Atlas Honda that new and latest model of Honda CG 125 Classic has launched.
New CG 125 is a little bit different from the old model of Honda in a sense that new model is equipped with the new Euro 2 Technology, Black silencer or muffler with chrome platted silver guard, new graphics and new speedometer. This New CG 125 will launched in somewhere in May or June and the price is same Rs 95,000/-.
Honda CG 125 always is the name of performance, quality and speed with best resale value. Prices of 125 is also economical if some one compared it to the high specifications. Honda CG 125 has 4-stroke engine generates 11- horse power, CDI ignition system, and 12- Volts battery.
CG 125 New Model With Euro 2 Technology

 Improvements In the CG 125 New Model:
Black silencer with chrome platted guard
improved rocker arms and case assembly
improved valve set and tappet assembly
Key Features in the CG 125 New Model:
New attractive petrol tank
4- Stroke smoke less Engine
Specifications Of New CG 125: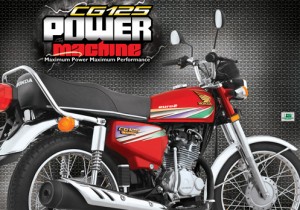 Engine: 4-Stroke OHV cooled by air
Bore & Stroke: 56.5 x 49.5 mm
Dimension (Lxwxh): 1911 x 731 x 1017 mm
Petrol Capacity: 9.2 Liter
Tyre at Front: 2.50 – 18 4 PR
Tyre at Back: 3.00 – 17 6 PR
Transmission: Continuous 4 speed mesh
Suspension Front: Telescopic Forke 103 mm Travel
Suspension Back: Swing Arm 68 mm Travel
Final Driver Roller Chain
CG 125 New Model By Atlas Honda With Euro 2 Technology is available soon in just Rs 95000/- from your nearest Honda Dealer.